Strangely he's only 25 but it feels like he's been around forever, he had an astonishing partnership in the youth team with Arturo Lupoli, but since then, including several stop-start loan moves, he has flattered to deceive. Why?
In 2010 after stacking his Aston Martin on the A1(M), he declared that he would become one of the
greatest strikers the world
. Perhaps he got a bump on the head, to add to the one when the odious Adebayor nutted him, perhaps he's just been unlucky?
Despite his undoubted talent and self confidence, where his
psychological profile results broke the methodology and made Pat Rice's cherubic face red with laughter
he hasn't quite managed to fulfil the talent he has, latent as it is. I have no beef with Bendtner, in fact, when he's on form and playing in the right position, i.e. as a centre forward, he can provide reasonable cover. He's no Giroud in terms of playing with his back to goal or in terms of intelligent running, but he's strong, his link play is good, has a great shot and attacks the ball when there's a chance to do so. His international return is pretty impressive too with 22 in 55 games, many of those goals in big games. So what's the problem? Why isn't he "the greatest striker that ever lived"? - It's just he's had so many distractions in his life.... here are just a few of them...
Social Avenger
Bendtner played a key role in unearthing the
cynical commercialism
of UEFA when he was fined a staggering €100,000 for wearing his lucky green Paddy Power sponsored boxer shorts which he unveiled with a deft drop of the shorts after scoring for Denmark.
This was significantly more than fines for crowd trouble and racism dished out by UEFA. Was Bendtner a cynical toy of Paddy Power? Happy to take their money? Of course not, he wanted to unearth the stink inside UEFA and FIFA, the cartel of power hungry individuals running the world game.
King Bendtner
It almost happened. When
Arsenal visited Buckingham Palace in 2007
, the Bendtner plot was uncovered prior to the visit. The teenage Bendtner was shackled in the Tower of London following torture (by Jens Lehmann) after he admitted to looking for an opportunity to usurp the Duke of Edinburgh and marry her majesty himself. Since then he has learnt his lesson and dated a minor Danish Royal to get some practice in on matters of state. There is plenty of time to be a monarch once his playing career is over.
They have since split
, but Lady Caroline has had his baby, which means House Bendtner is on the heraldic ladder. Tsar, Emperor, King... one day *gleeful Blackadder wringing of hands*
As an aside, this
youtube video
of the Buckingham Palace visit shows that even when he's trying to be sombre and deadly serious Eboue is even funnier than when he's larking around. See intellectual expression at 1.45 and his staggeringly unnerving bow when he almost kissed the queens hand at 3.27. She was on verge of ordering his execution.
Below - Bendtner as King
Scandinavian Detective with Personal Demons
For this photo Bendtner inexplicably wore a very sensible woolly grey cardigan, perfect for those long winter evenings of perpetual dark when you are staking out the forest shack of a murderer whilst being haunted with regrets of the past. He looks every inch the plain clothes detective trying to blend in (unsuccessfully). Essentially he is a very shit Wallander (I know Wallander is Swedish).
The only thing worse than Bendtner's cardigan is Snoop's tee shirt? Snoop is about to jab his fingers into Bendtner's eyes, then run away.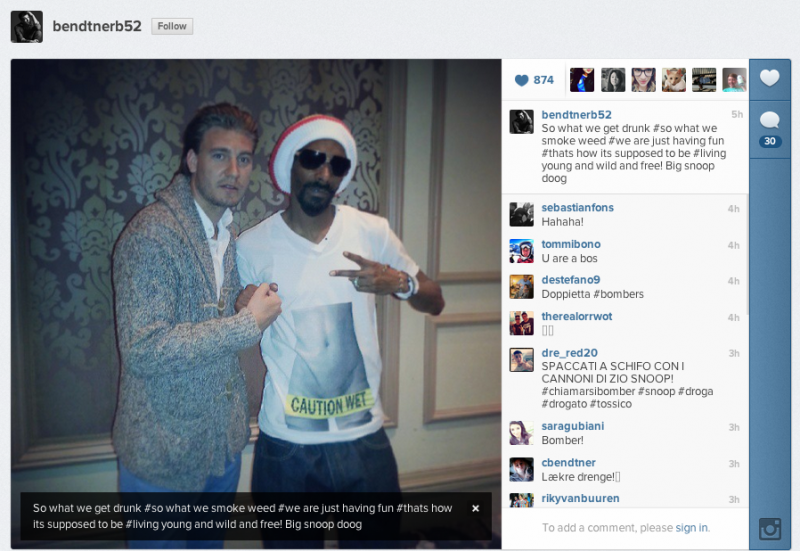 Northern Playwright
Bendtner has some new glasses. Look.
By wearing these glasses he is imbued with the supernatural power of Alan Bennett and writes witty and semi tragic plays of Yorkshire graft in the post war era. Instead of writing successful plays he could have been improving his football, but at least he's been critically acclaimed.
The Way of Bushido
The observant among you will have noticed the little top knot bouncing jauntily up and down on the top of Bendtner's head. Fashion? No, far from it.
Bendtner-sensei is skilled in the way of Bushido, after watching two episodes of the James Clavell adaptation of Shogun starring Richard Chamberlain (no relation to the Ox) he decided he wanted to improve himself, his mind, his body. He writes Haiku's and elegant poetry, but he can also cleave you in twain with an elegant spin turn of his Katana. Here, in this poem, he rages against his misfortune, having proved himself Van Persie's (wasp chew man of dishonour) equal, he is sidelined in favour of "Distressed Seagull" aka Chamakh.
Poem, by Nicklas Bendtner.
While they smothered your ankle with horse placenta,
What became of the warrior Nicklas Bendtner?
I scored the goals while you were broken,
But my tenure cut short, a mere token,
Discarded like the cherry blossom,
And I had to watch, white knuckled,
The distressed seagull,
floundering in an oil slick,
When the wasp chew man of dishonour,
Was mended, he re-Appeared, was revered,
Only to take his grey temples,
To the northern devils. Curse you Persie. You're a penis.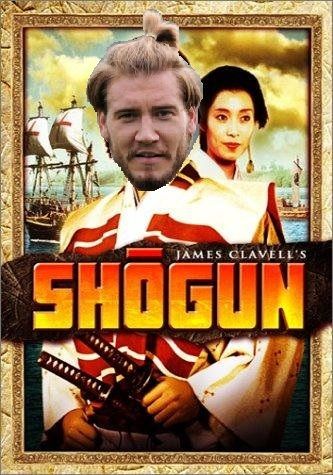 Messiah

"He's not the messiah, he's a very naughty boy!" – Monty Python's Life of Brian.
Oh, but he might be. There are tantalising glimpses... For example...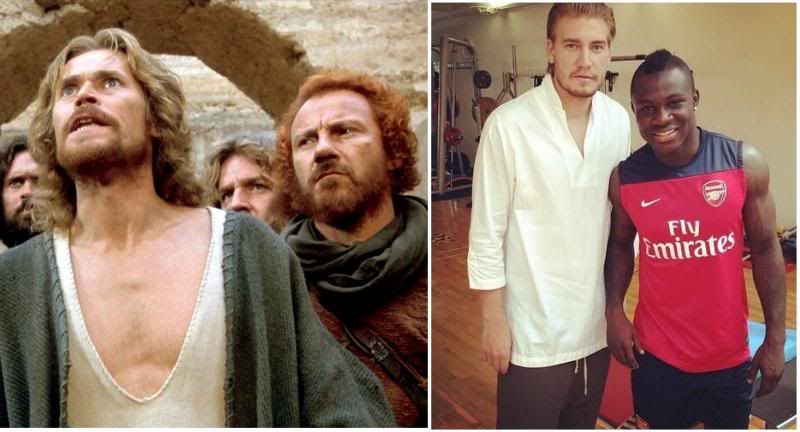 Poor Frimpong, I've cast him in the role of Harvey Keitel's Judas in this, but sadly we couldn't get tuppence for Bendtner to sell him to the Romans or any other team, never mind 30 pieces of silver.
So, without disrespecting my religious friends... differences between Bendtner and Jesus? Jesus was only crucified once. We've crucified Bendtner hundreds of times, he just shrugs it off.
Bendtner as Sailor.
No reason for this bad photoshop other than he reminded me of popeye, a little bit. I didn't bother trying to draw anchors on his arms. Too fiddly.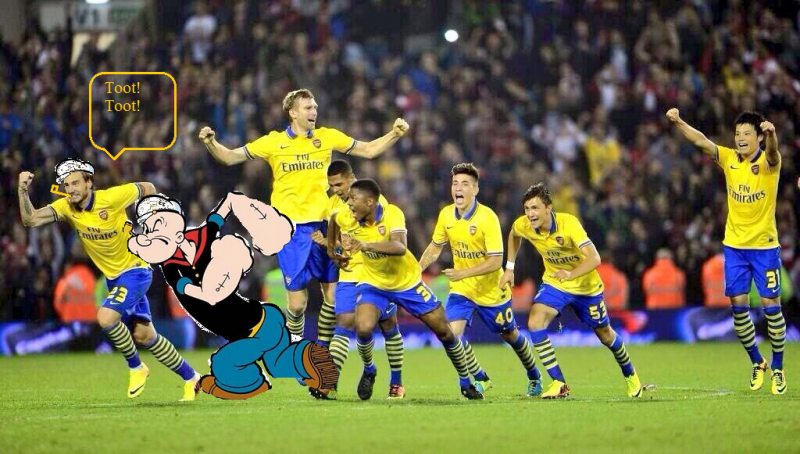 Summary
So, it appears I'm lacing Bendtner and yes I am. But that doesn't mean I'm not fond of him. In fact whenever he plays I root for him. I think most of us do. He seems to have adopted a humility, to work hard, to do his best for the team, he survived the cull of fringe players because his arrogance in pre-season marooned him, stupidly thinking he could cherry pick any one of six clubs. Rather than just leave him to fester once we realised we couldn't get another striker as we'd run out of time, Wenger thought of the kid with potential, he can help us. If we get a good few months out of him as cover, without distractions, then I'll be happy. I don't think his long term future is at Arsenal, but while he's here, he can do a job. Good luck Nik, we're top of the league, this could be your greatest adventure yet!

YouTube
- Videos from this email
Created, written, researched, edited and everything else by Mel Melis @melmelis