Much to the bemusement of many, football fans define themselves against the football season. We pin memories to certain events in our lives according to where they fitted in our football fan experience. This not so secret revelation first came to the general public's attention when Fever Pitch was published, but for those already in the know, it was a "meh" moment.
For those not into football, us fans are treated with a sense of bewilderment. "Why do they do that?" they ask, like esteemed anthropologists trying to comprehend the religious practices of a long extinct tribe. Especially when we scrutinise a fixture schedule with a Field Marshall's eye for detail and revolve the rest of our lives around it, risk assessing the fact Sky Sports may decide to change our Saturday 3pm fixture to a Monday night and thus having a contingency plan in place (as any self respecting Field Marshall would).
But that's what it boils down to, tribalism, we all want to belong, it's ingrained in our nature, something ancient in our psyche. And football and the team we support speaks to us at a primal level, of unity, of safety, of a shared identity, of loyalty.
I'm going to delve into lazy hack psychology by equating the experience of being a football supporter to the experience of family now, you know, you stick by them, even when they piss you off, you can't change your family (or your football team) blah blah. So please, whilst you roll your eyes, bear with me and hear me out.
I was going to start this section with the sentence "I was fortunate to have been born in Islington, grew up near Manor House and spent many years hanging out in Stoke Newington" before going on to wax lyrically about my footballing heritage, but then I considered what I was writing. By being born in Islington, does it really make me a "more fortunate" Arsenal fan than say someone born in Lagos, Singapore or New York? No, it just made my experience different. So I wont patronise.
But what I will say, is that for me, this is where the family element comes in, especially if part of your family connection, is through football and the area you grew up in. It's a great leveller, it connects people. A lot of guys find it hard to "warm up" socially in a strangers company. No euphemism intended. So football is a good solid starter as a subject to break the ice, it's convenient and reassuring, like a Prawn Cocktail in a 1970s restaurant. It gives some common ground to build on. Finding out the person you are speaking to is allergic to shellfish in these scenarios usually means shuffling off like Columbo in my case, any chance of social discourse shattered with the fatal line of "I don't like football actually". But that says more about me than them of course!
So family… My dad (who passed away ten years ago) and I only had a few things in common, namely Spaghetti Westerns, International Communism and Arsenal Football Club. We occasionally watched the A-Team together as well, but that was a secret until now.
Not that we were ever at loggerheads about any other subjects, it's just we kept a respectful distance of one another and didn't dwell too much on all that bonding navel gazing stuff. Sometimes our worlds collided, like when he asked me "what is this shit?" when I was playing Public Image Limited's first album too loudly one day. But most of them time, we just did our own thing.
But when we did talk, it was mostly about football. From when he arrived in London, in 1955, until around 71/72, he went to every Arsenal home game. He also, as was the custom for many north Londoners, a regular at Spurs too. One Saturday Arsenal, one Saturday Spurs, a tradition (I assume for policing purposes but also perhaps to allow for a share of fans back in the day) which is still maintained today between the two clubs.
He stopped going to Spurs in the late 60s, when my elder brother, who was by then also going with him announced "I don't want to go to Tottenham anymore dad, they're too good!"
A wise choice Sav, a wise choice. In later years, he also embellished the reasons, saying that he preferred the red shirts. That the stadium was more aesthetically pleasing, the beautiful art deco of Highbury, the clock, the discreet but powerful floodlights all along the west and east stands, glaring through the fog on a dark winters afternoon.
All this heritage meant, was that my dad was a mine of information. He saw both Spurs and Arsenal double winning teams in 60/61 and 70/71 respectively (although he was locked out from White Hart Lane like many others when we won the double) and he went to some titanic matches and saw some great players.
I asked him, who was the best player he ever saw. Without hesitation "Duncan Edwards" he said. Although Arsenal were brave in their 5-4 defeat at Highbury in Man Utd's last English match prior to that fateful Munich disaster, Duncan Edwards almost single-handedly dismantled Arsenal in a peerless display of power, strength and skill. It didn't matter how heavy the ball was then, Edwards legs made Stuart Pearce's look like twigs. Edwards was a bulldozer, a warrior, but also phenomenally gifted. He dominated and bullied Arsenal.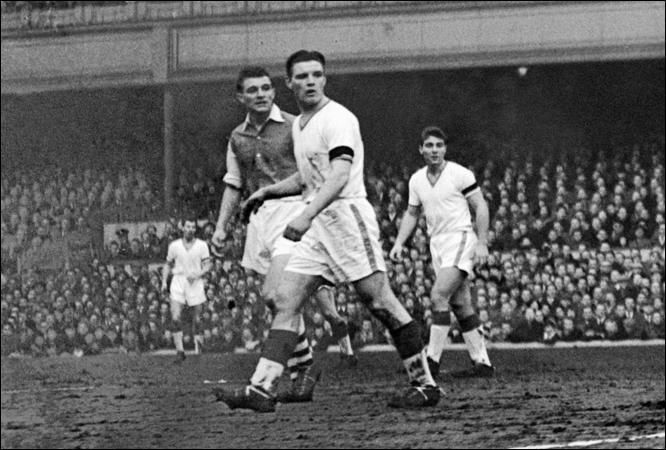 The mighty Duncan Edwards in that classic 4-5 at Highbury in 1958
I asked him what he thought of Arsenal's waning team in the 1950s, he said he remembered the ageing Tommy Lawton fondly, a man who, although not necessarily the tallest, used to time his jumps to perfection and was the perfect two footed centre forward. It was an interesting link to the past, Lawton having played in the same Everton team as Dixie Dean (later replacing the veteran) and who used to get his nose broken by Arsenal's 1930s hardman Wilf Copping, on a regular basis, Copping frustrated at not being able to jump as high, thus crashing him in the chops with his elbow.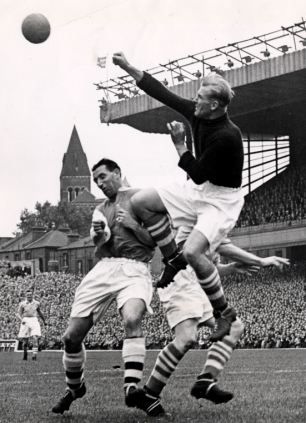 Tommy Lawton losing out to Bert Trautmann at Highbury
Whilst Arsenal struggled in the late 50s and throughout the 60s with entertaining but defensively enigmatic performances, even with such great players as George Eastham and Joe Baker knocking them in (and knocking them out in Baker's case with Ron Yeats of Liverpool, in a true David and Goliath encounter) Spurs under Nicholson were playing great football.
He saw Dave MacKay lift up the whimpering Billy Bremner by the shirt, he used to see an absolutely bladdered Peter Cook weaving his way to WHL and he saw the sublime skills of Blanchflower captain Spurs to the double.
Dave MacKay shows Bremner who is boss
Ten years later and he witnessed our dogged skipper Frank McLintock, a bridesmaid on so many occasions, become a true Arsenal legend when he lifted up the double trophies, the bruising Peter Storey holding his own in the battles of the midfield hardmen, an interchangable forward line of Radford, George, Eastham, Armstrong, Graham and Kennedy.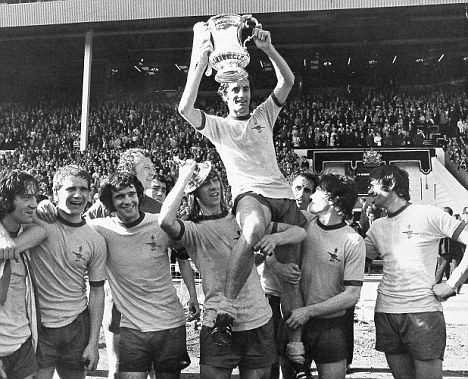 Frank - 4th time lucky at Wembley
When I pressed as to who his favourite team was, who he actually supported, he said Arsenal. The history, the heritage, the class. Spurs was fun, but it was a day out rather than a vocation.
I myself was born the day after Peter Storey scored two goals in the 1971 cup semi final against Stoke. I'm a double year baby. That's why I like wearing the retro shirts with '71 on them.
Growing up in North London was fun, I spent some of my happiest days at South Harringay Infants/Junior school. It was most amusing to find out that a fellow Alumni is the owner of this blog (Brian Dawes), although he went there just a few years before me. Just a few mind you… We also lived a few doors away in the same road… but at different times.
My school was equidistant to Spurs and Arsenal, which meant there was a split of fans from both Spurs and Arsenal. There were a few Liverpool fans (jumping on the success bandwagon of the 70s, they just got ignored) but very rarely would you find any kid supporting another team to the two North London teams. I don't remember a single Man U or Chelsea fan, not like now where a sense of footballing identity is partially motivated by success, which is kind of tragic (to me anyway).
It meant Monday mornings were hell if you'd lost the North London derby, the dread of going into school knowing you were going to get teased, not just all day, but all week. Of course, this punishment was reciprocal. But it wasn't pleasant and would sometimes lead to fights. This is the worst element of tribalism. You might be best mates with a Spurs fan, but somehow end up taking sides with a complete bell-end because he happens to support the same team as you. Just for the record, there were more bell-end Spurs fans at my school ;)
Although I've long since moved away from North London, into leafy Bedfordshire (where co-incidentally I unknowingly lived minutes away from another blogger here Clive Palmer), being a season ticket holder, I'm always coming back, for success, but more recently, for penance.
Part of my routine, for nearly twenty years of being a season ticket holder, was to visit my old mum, at her house, the house I grew up in. I'd have a meal with her and a Turkish coffee. We'd have a laugh, then I'd walk the two miles to the game. She told me she went to Arsenal only once, when my dad (who was working at the Mayfair Hotel at the time) bumped into Bob McNab who kindly offered him comp' seats for the East Stand. She was delighted to go, it would have been too rough (she was only little) on the terraces to make it more regular, but seats were perfect for her for this one off, she didn't remember the result or which team we played, she just remembered a lovely day out.
Unfortunately my mum passed away suddenly last week. Which means there is a hole in my routine for matchdays, as well as my life. The first game of the new season is going to be difficult, a time of reflection. I'll miss those visits, I'll miss her. I considered not going, at least not for the first few home games, but I'm going to make myself.
Another bond to my birthplace, my home in North London has been severed. I feel the deep sense of loss keenly. But I also remind myself, there is a bond left, The Arsenal. And like family, I'll always turn up, I'll always support them.
@melmelis
Footnote: When Mel says I went to his school just a few years before him he's being polite and really means a few decades. On the day Mel was born I was in fact still celebrating Peter Storey's goals in Arsenal's fabulous comeback against Stoke, having been up to Hillsborough for the game. I might also add that, just like his dad, I too was locked out for our first League title we won at White Hart Lane.